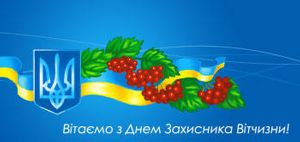 Dear Fatherland Defenders!
          On behalf of the Assembly, I sincerely congratulate you on the Day of the Defender of the Fatherland!
          The Day of the Fatherland Defenders is a holiday that has absorbed rich and glorious traditions, embodies the courage and heroism of the defenders and liberators of their native land at all stages of its history.
           On this holy day I wish good, happiness, harmony and well-being for every family. Health and longevity for veterans, successful service to soldiers and officers.
           Let this holiday of brave and patriotic people always be peaceful and joyful!
           Inexhaustible optimism, determination and breakthrough ideas.
           Wins on all fronts and reliable rear.
           God bless you and your families!
           Happy Holidays!
          Regards,
President,
Doctor of Science in Public Administration,
Professor, Honored Lawyer of Ukraine             Y.A. Romanenko